I'm so pleased with the way this one has turned out, especially as it was an idea that came to me in a flash. I'd written fragments of the poem back in January, inspired by my dark walks through the woods (with my 3 dachshunds); occasionally spider webs would catch in my eyelashes and I made a mental note to use that somehow. When walking in Rainbow woods I often think of my grandad, who used to take me there when I was a child; so I experience an odd mixture of nostalgia and more recent appreciation for nature. Foxes leave their scents for the dogs to chase after, so I also daydream about them. But then, a month or so ago, I realised that I haven't really included spider webs in my animal paintings - though they are a common feature in my gothic paintings.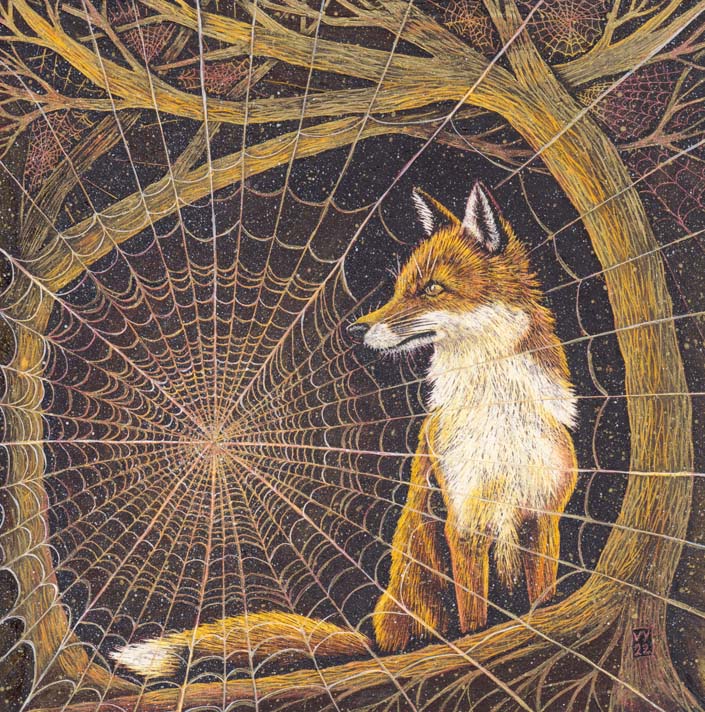 Connection
Winter rain lashing down on pavements
Slickens my footsteps,
Exposing my hooded silhouette
And sinking my spirits with the soaking.
But underneath the thick and ancient canopy of the woods
I am protected.
The trees are a womb to my unformed self;
Their trunks keep me safe from wind,
The tangled branches give me shelter from the downpour,
Other than a dull drip in the muffled cave
With its dangling ivy stalactites.
Nostalgia flows as thickly and twisting
As the roots of this forest;
Every footfall disturbs whispers of memory.
Tiny webs catch in my eyelashes,
Blurring my vision between now and then.
Below my feet a network of knots;
Can I unpick these lines to find the forest's core?
Reveal secrets known only to the silent inhabitants?
I breathe again,
My heartbeat slows to the rhythm of the forest,
Inhaling the damp bark, the musty soil
And the scent of beasts who have prowled unthreatened in the night.
It seems almost to have an aura of night time here,
With the grey sky scratched out by the trees.
My pulse begins to beat the old/new rhythm now;
I see through night vision of a fox,
Noticing how different a mossy stone would be
With my acute sense of smell;
How I can follow the trail
Of prey or fellow,
And avoid the scents of danger –
The well trodden path of muddy boots –
To choose a pathway, undiscovered.
A meandering journey under evergreens
And up steep edges which lead to sacred groves.
Too early for bluebells or wild garlic,
The earth is covered over by a thick carpet of mulching leaves,
Which release an abundance of aromas underfoot.
I jump lightly over puddles which gather at the tree roots.
Sitting on a fallen trunk
I inhale deeply,
Breathing in the seclusion and magic.
My lonely voice unites with primal force.
This energy will never fade
But shapes new thoughts;
The electric buzz of life, amorphous and abstract,
Weaving a tapestry of the woodlands.
I could stay here forever
And let my bones sink into the earth's core,
Giving new life to the forest,
Becoming one with nature as I feed into the cycle.
But today
I wander back through the tangled gateways,
Back along the fox trail.
And leave part of my mind's eye
Behind in the secret grove.
Vikki Yeates
2022