First of all I make some thumbnail ideas for composition – I may change this, depending on the reference photographs. For example, in this case my initial sketch would in reality break the fox's neck, so I can't get anything like it. Also I found a fox I preferred, so decided to go with that in the end.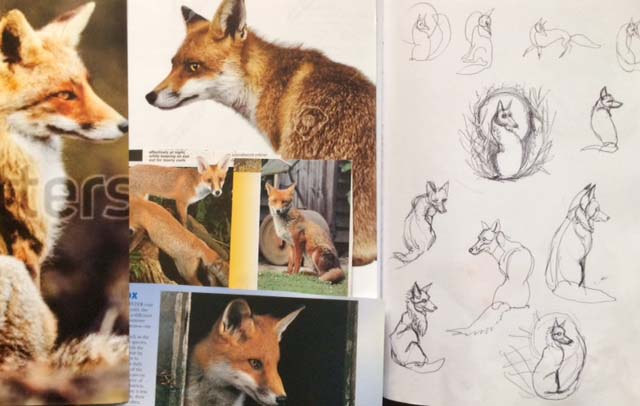 Next I do some reference drawing from photographs; I want to try to get the feel of the animal by drawing some different poses; and I don't want to be too glued to the photograph once I start the actual artwork.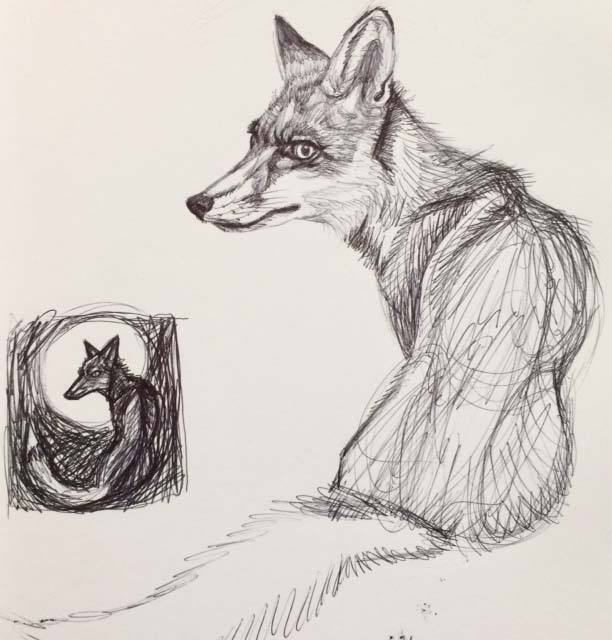 I roughly sketch out the fox and the moon. There's no point in going into too much detail here, as I'm going to completely cover this with pastel and ink; I just need to know where the colour is going.
I try out some colour combinations with my pastels. I don't want the fox to be bright orange – and I don't want him to be too washed out. I choose a yellow orange, with a deeper orange for smaller areas, and a Bordeaux for dark areas. I don't want the moon to be completely white, so mix in a bit of naples yellow.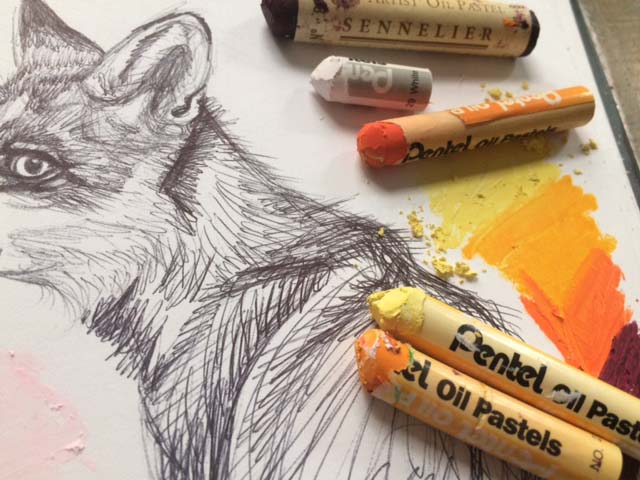 I cover over the entire surface with oil pastels, making sure I don't leave gaps for the ink to seep into. I mix the pastels a little to create shades, but not too much as when the ink is scratched away, usually the first colour that touches the paper is the one that shines through.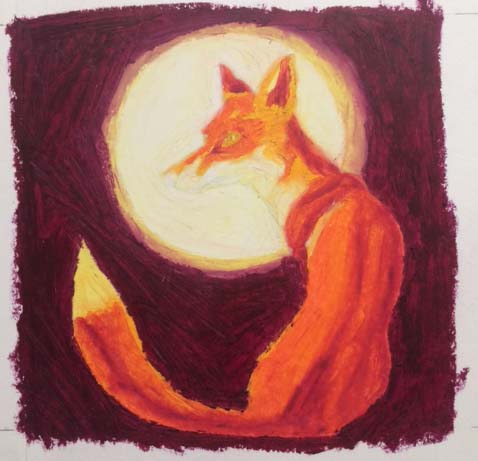 Using water based black lino ink, I paint over the pastels, leaving gaps here and there to show me where to scratch. You can see now why there is no point in doing detailed work before this stage, as it is easy to lose areas here, which could be very frustrating in the end.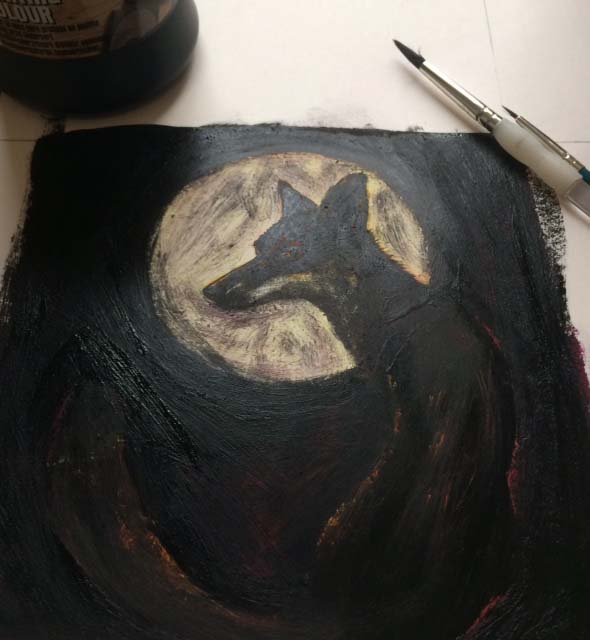 Using a scraper tool I scratch away to make detailed marks. I try not to be too heavy handed at first, as it is easy to scrape away too much and lose the scratch effect completely. I always try to remember that you can always scratch more away, but things become more complicated if you have to add ink back in. I concentrate on the fox first, scratching away and then added more detail if I need to.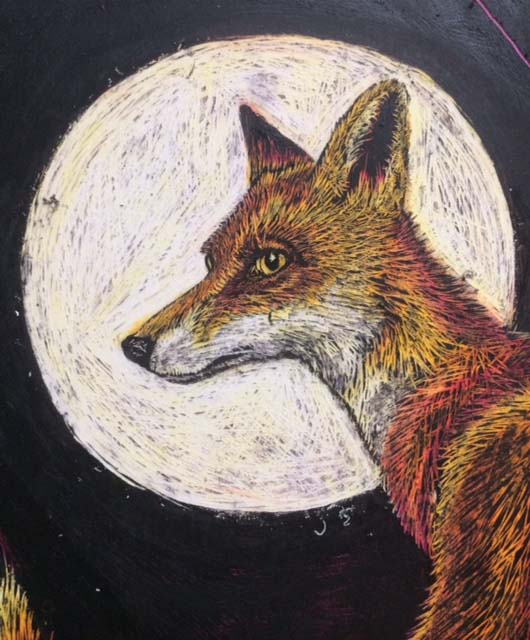 Next I create a background, in this case tree branches, which is one of my favourite patterns. There's something very therapeutic about making these marks.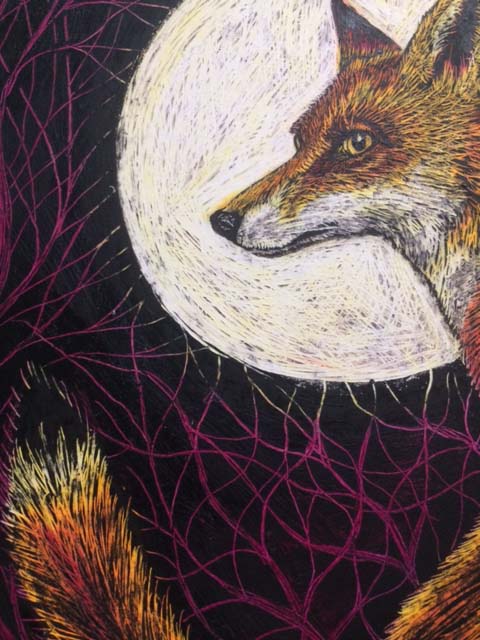 I extent the branches into the moon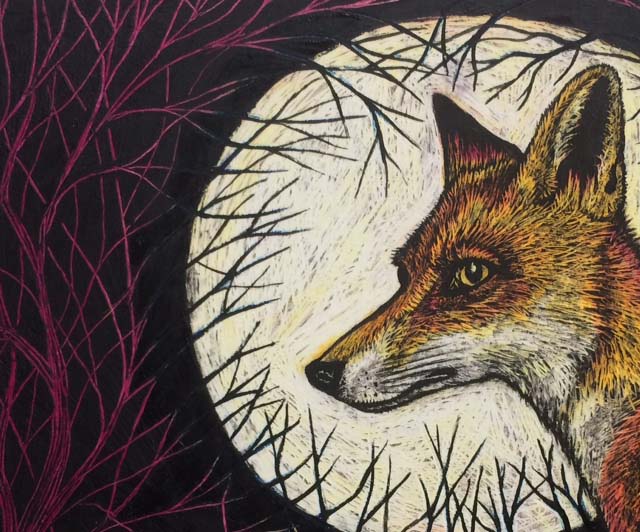 I'm having a 'gold' phase at the moment. When I'm at idea stage I don't necessarily think about gold, but as soon as I'm at this stage I start thinking about gilding certain areas. At first I thought I'd change the moon to gold, but then I decided it would be more interesting to change the branches. I love my little glass pot of gold ink, but I must be careful not to overuse it! But in this case I let it flow – maybe to get it out of my system!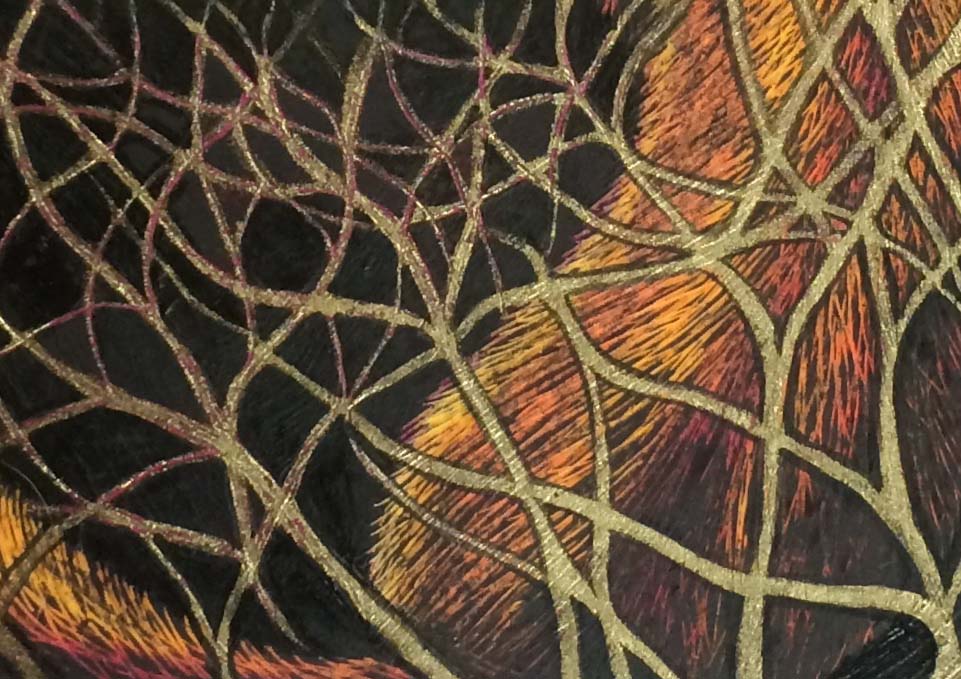 Splatter phase. It's easy to splash too much and lose areas of detail here, so I tend to mask areas of the picture off.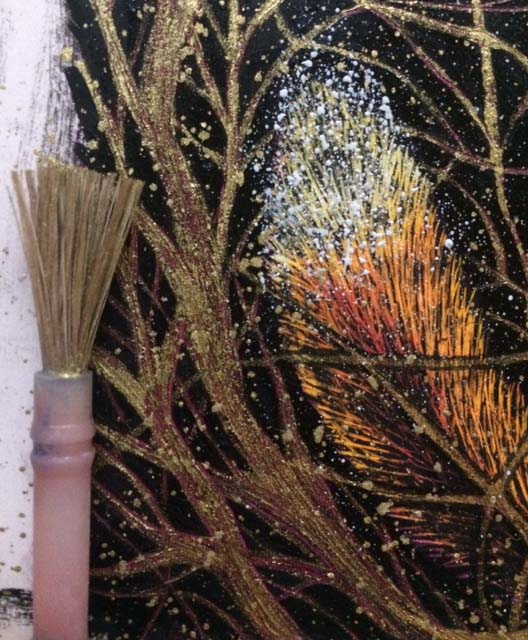 And add more black ink to areas that have lost some definition – particularly eyes and noses! And here's the final piece! This is just a snap from my phone, as I'll need to wait for the ink to dry before I scan it properly.